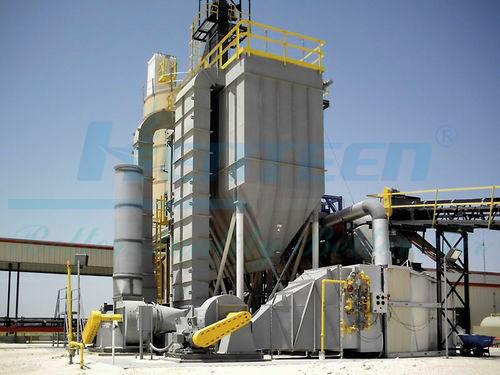 As the cost of energy continues to increase, plant managers are continually looking for ways to reduce power consumption. Within our dust collection HRB is the unique the one, a filter that can save up to 50% of operational costs by using medium pressure air for the cleaning cycle. The HRB's integrated blower provides the 0.49 bar medium pressure air for cleaning which eliminates the need for plant compressed air in the filter and frees up existing compressed air capacity for use in other processes.
The patented HRB Dust Collector also provides:
· Excellent operation capabilities in high dust load applications and in explosive atmospheres
·Good for operation in high temperatures 465°F (240°C) and higher.
· Cleaning capacities over 250,000 CFM (425,000 m³/h).
· Longer Bag Life – precision cleaning by the HRB prevents over cleaning and ensures that bag life is uniform and maximized.
· Lower Emissions – medium-pressure pulse complemented by precision cleaning has proven to have much lower emissions than reverse air cleaning filter systems.
· Lower Operating Costs – medium-pressure, high volume air is cheaper to generate than low pressure, reverse air systems. The HRB can save as much as 50% in operating costs through this functionality alone.
· Lower Maintenance Costs – the HRB's "no tool design" bag change-out saves hundreds of hours of installation and maintenance over the life of the filter.
The following features and options are available with the HRB Dust Collector:
· Optional gear provides ability to pulse twice as often
· Wide variety of filter media available
· Heavy duty carbon or stainless steel construction
· Walk-in clean air plenum with lifting lugs
· Hinged service door for easy access to clean the air plenum
· Direct-drive rotating surge tank, diaphragm valves and distribution arm powered by an explosion proof motor
· Mechanically controlled medium pressure air cleaning mechanism discharges air directly over the center of filter bags
· Topside tool-free cage and snap-band bag removal
· Explosion venting and suppression are optionally available.
· Ladder, safety cage, and service platform provided as standard
· Dust collectors up to 14' (4.3 m) diameter can be shipped as a single full-welded unit (where local shipping restrictions permit).
All units are available in sectionalized form to meet shipping needs as necessary.
Typical applications for the HRB Dust Collector include:
· Process dust collection
· Mining
· Coal handling
· Lime processing
· Cement
· Pneumatic receiving for ship loading/unloading
· Gypsum/Wallboard processing
· Metals processing
· Aggregates
· Grain handling