Product: Oil Mist Collecting System
Model: HEMS 6-4.5/8-6.0, HSP-144,HWS-T10,HOMS 1-1.0
Separator Number: 9 PCS
Application: Mechanical Processing
Air Flow: 203400 m³/h
Customer: SGMW Engine phase I-Chongqing
CHALLENGE
SGMW built it's chongqing base in 2014, which covers engine workshop, body-shop and painting-shop. The engine workshop consists 2 block lines,2 head lines and a crank-shift line. A large amount of mist and dust is produced when the machines operate.
As a professional manufacturer of mist industry, Henteen received the invitation of central mist separating system of gear machining area from ford SGMW.
SOLUTION
After communication, we got the basic information: the number of machines and the airflow of each machine, and a layout was provided. We divided the machines into 9 different system according to the layout and the media: emulsion,oil and dust.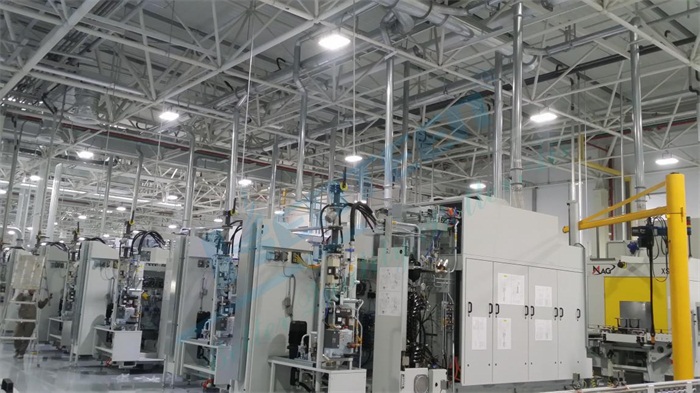 In the left picture,you can see a dust collector, it is used in filtering dust, produced in the turning and drilling machines in the crank-shift line. HSP series collector can deal with the MQL condition with the unique filter from HENTEEN.
The pressure-drop between the filter is 200-300pa at the beginning, and the number will increase when the dust was absorbed on the surface of the filter. To ensure that the filter is in a good working condition, we use compressed air to clean the filter every 2 hours. The filter need to be changed when the pressure-drop reach 1600pa, and the time will be 2 years after use.
The separator used in the SGMW has the capacity of 21400 m³/h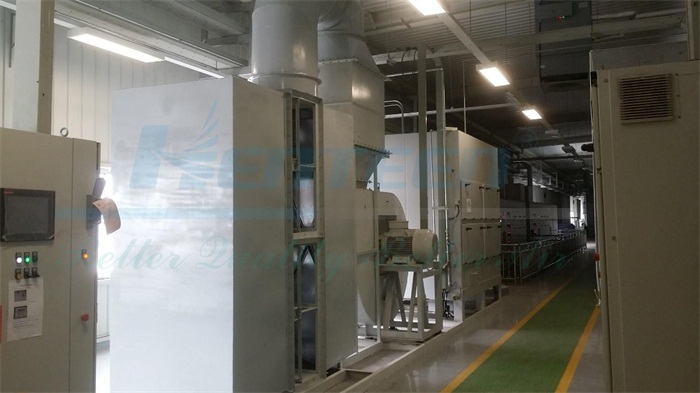 The block line and head line are wet process, emulsion is used to cool and lubricate cutting tools, emulsion mist leaks into the work condition. HEMS series separators are dedicated to dealing with this situation.
The separator in the above picture is used in head line with the capacity of 33450m³/h.
To get the 33450m³/h the system need, we used a centrifugal fan, with a silencer at the export.
From the picture, you will see a HEPA filter was equipped, it can save at least 30% power when the temperature is great different between the workshop and outside.
Different from other projects, SGMW project used galvanized tube instead of carbon steel pipes, which is beautiful and rust-proof without painting. To ensure the suction effect, we designed the pipeline according to the standard: a speed of 8-10m/s in the branch pipe and 15-16m/s in the main pipe.
After installation and debugging, we measured the speed of each machine through a reserved hole in the branch pipe. If the result deviate, we can adjust the manual valve to correct.